Festival season is just around the corner, and before I head to Reading next month, I've teamed up with Holland & Barrett to trial these festival-essentials. From protecting yourself with sunscreen, to recovering with essential vitamins, here's everything you need for a fuss-free festival experience: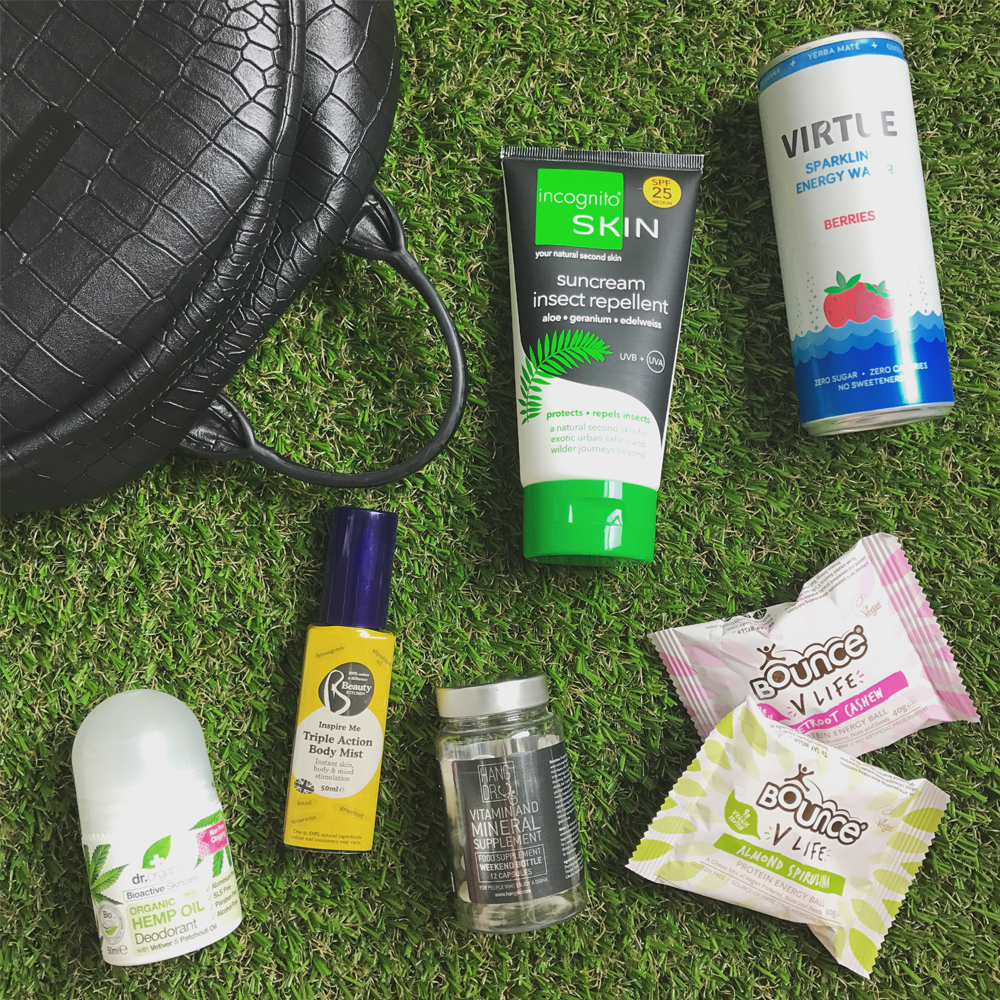 Protect
Sunburn and insect bites don't sound that extreme, but they can both lead to more serious conditions which could ruin your festival experience. Formulated with natural and organic ingredients, Incognito Suncream Insect Repellent, protects your skin from harmful UVA ad UVB rays, while keeping pesky bugs away. If you do forget to apply before sun exposure, soothing aloe will help relive the symptoms of sunburn when used as an after-sun cream, making it an ideal 3-in-1 space saver! A lot of sun screens can be quite heavy on the skin, but this is so light weight, it won't clog pores or leave an oil reside on the skin.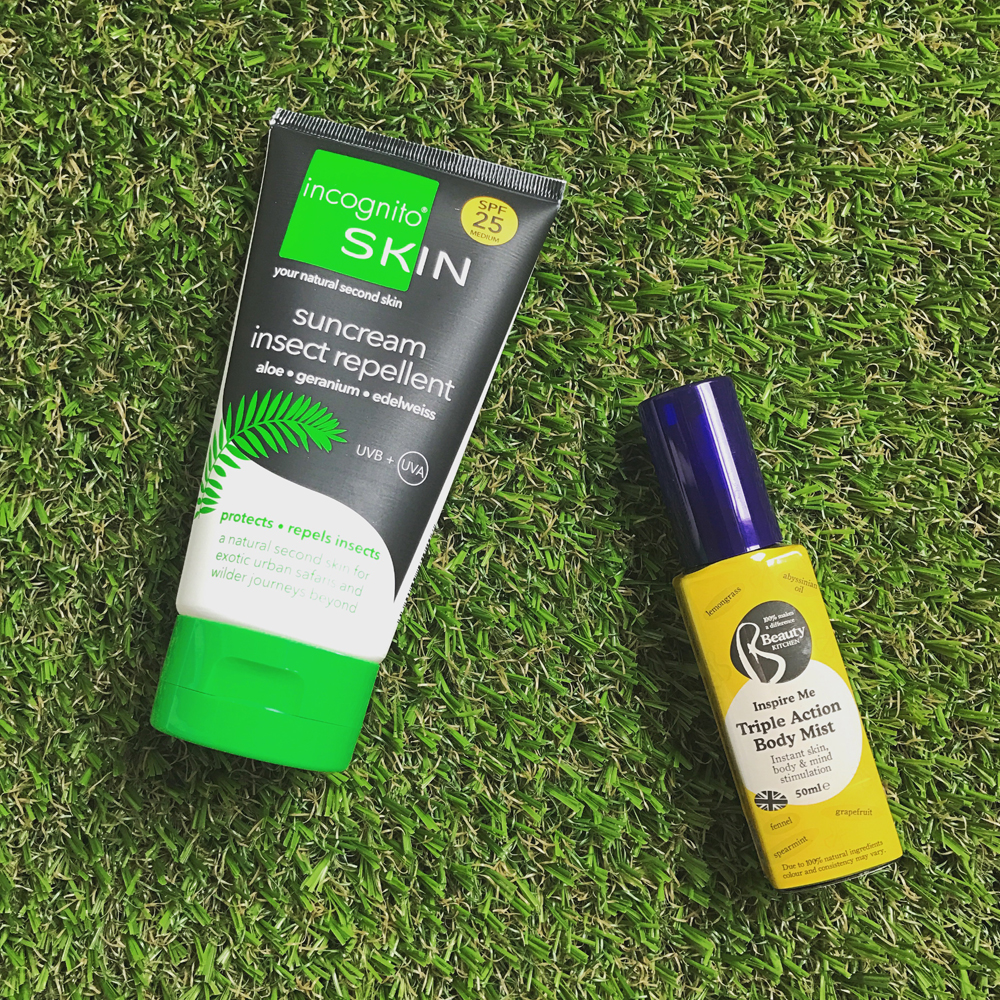 It's easy for skin to become tired and dull during festivals, especially if you're consuming alcohol. Beauty Kitchen's Inspire Me Body Mist hydrates and refreshes skin with a blend of 100% natural ingredients and essential oils. It also smells great, so could easily replace your usual perfume. A few pumps is more than enough to replenish skin, protecting you from looking dehydrated.
Refuel
Staying hydrated is essential to the festival experience, but drinking water can be understandably underwhelming. Virtue Energy Water is not only a delicious and calorie free sparkling water, it also contains a blend of B vitamins and the same amount of caffeine as a cup of coffee to keep your energy high and your body hydrated. During the last couple of weeks these have completely replaced my mid-morning coffee! The weather is far too nice for hot drinks, instead I reach for a can of Virtue to get my much needed energy boost.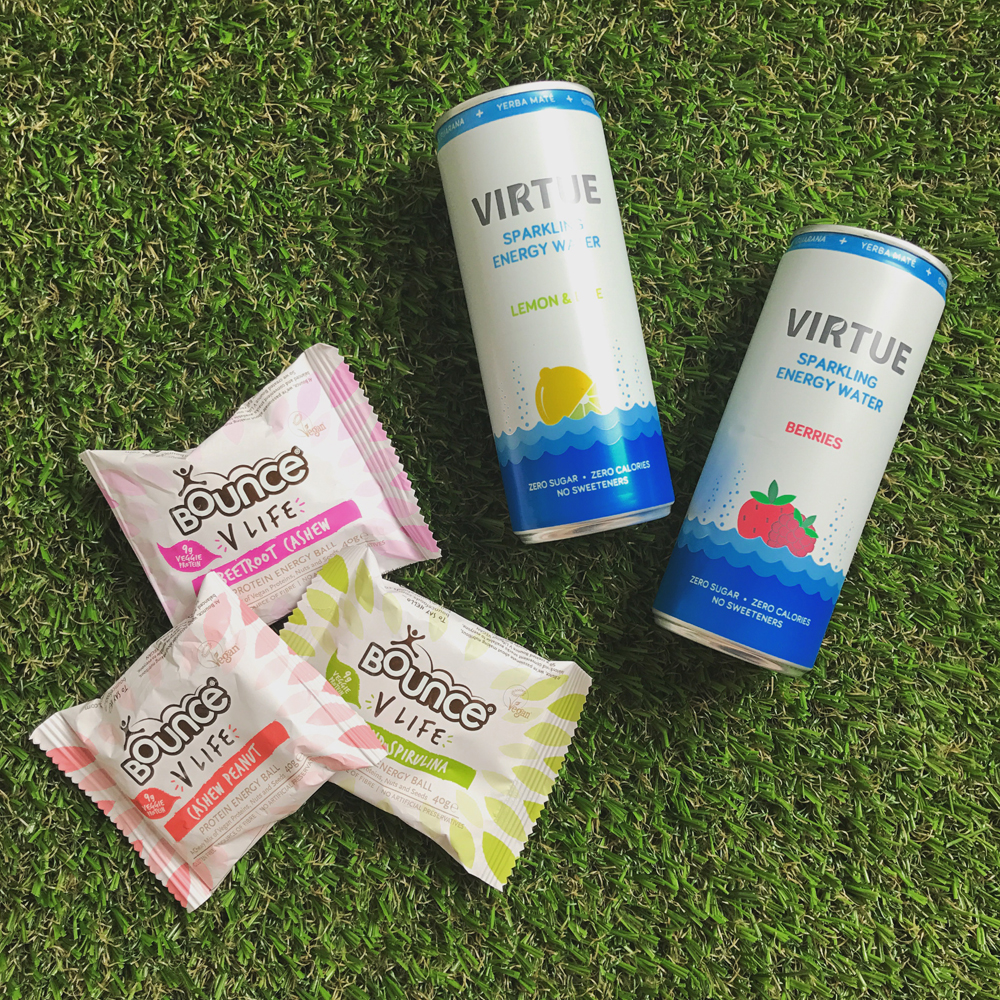 Nutritious, balanced, and convenient, Bounce V Life Energy Balls are made from natural, vegan ingredients and packed with veggie protein to provide you with much needed energy throughout the day. My favourite are the beetroot and cashew balls! Taking a few of these with you is going to keep you fuller for longer, while also saving you money as they're much more inexpensive compared to festival food prices, and they're a lot more convenient to carry with you!
Cleanse
Staying fresh while at a festival needn't be a worry with Dr Organic's Aloe Vera Wipes. Enriched with powerful bioactive properties, each wipe quickly and effectively cleanses the hands, face, or body, while soothing with organic Aloe Vera. I use these daily to cleanse my face, without stripping essential oils and moisture from the skin.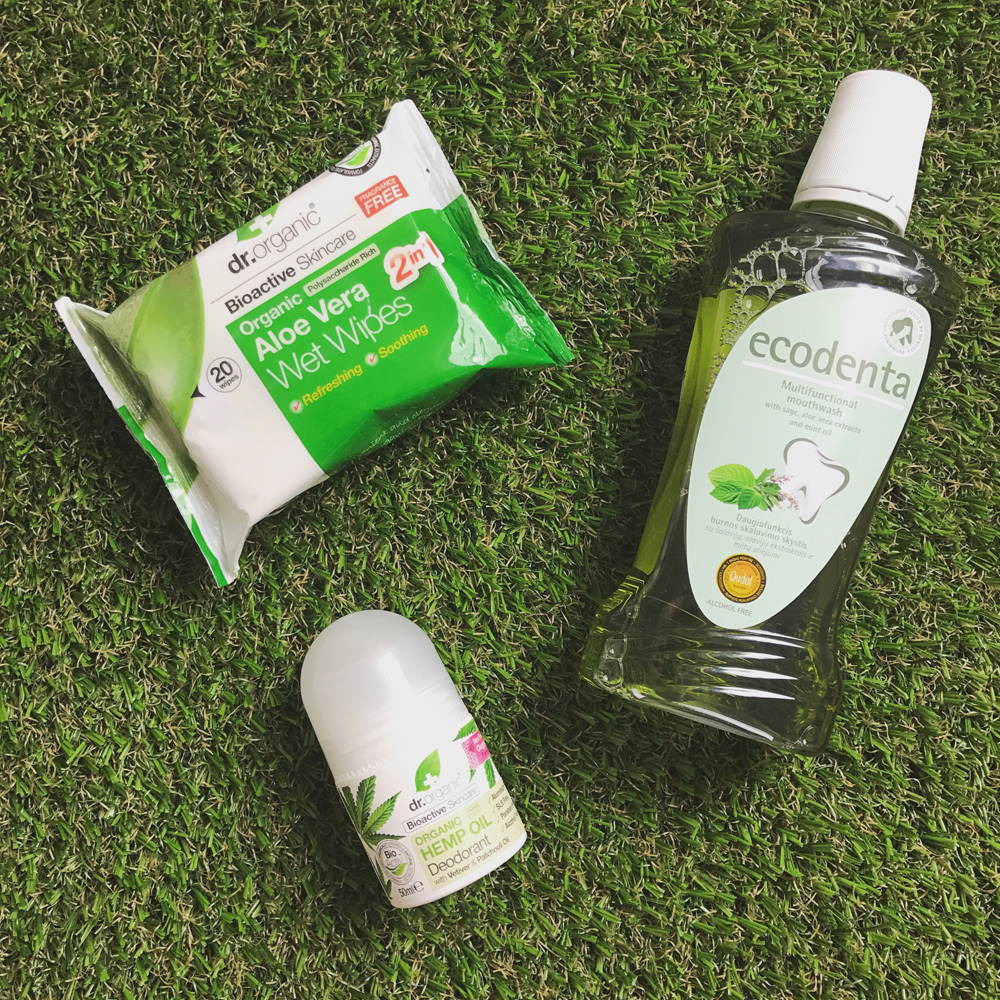 To stay odour free there's Dr Organic Hemp Oil Deodorant. Formulated with organic Aloe and Hemp Seed Oil, it doesn't dry skin out like some deodorants, instead it simply keep you fresh, while keeping skin soft. Natural ingredients and aerosol free, it's not just kind to skin, but also the environment.
Alcohol free, Ecodenta Multifunctional Mouthwash uses Sage & Aloe Vera extract to gently cleanse the mouth while mint oil refreshes breath. While this doesn't replace brushing teeth, it will defiantly keep you fresh through the day, or in between your usual oral heath routine. I love this as it replies more on natural ingredients than harsh alcohol which can sometimes irritate gums, leading to more damage than good.
Recover
Shouting, drinking alcohol, and generally feeling rundown can lead to a very sore throat. Echinaforce Sore Throat Spray is a traditional herbal product to relive the symptoms of a dry, soar throat. Unlike modern medicines available from a pharmacist, this had no side effects, so it's safe to use as and when it's needed. As someone who suffers with sore throats the moment I go without sleep or a good diet, this has been a life saver, and something I'd never travel without again!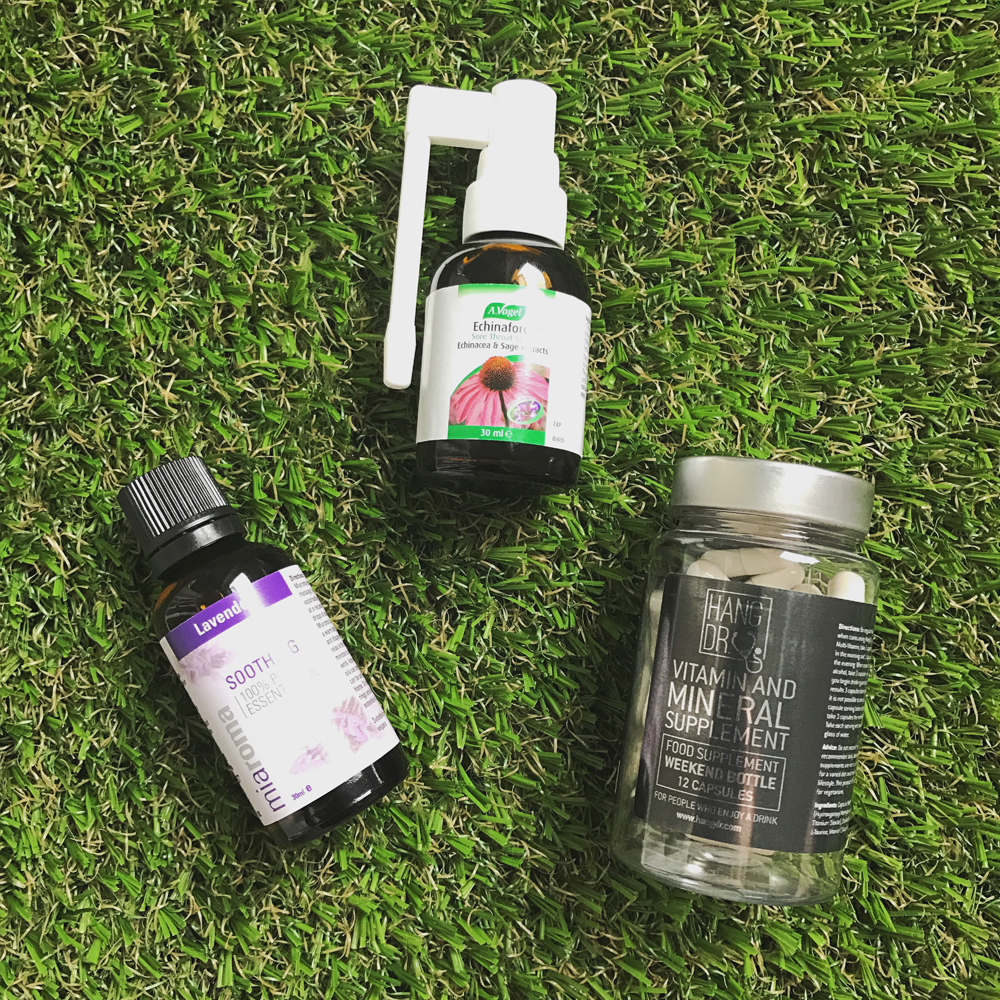 One of my favourite ways to relax and recover is with lavender oil. Miaroma Lavender Pure Essential Oil can be used to calm and active mind, making it ideal to sprinkle onto your pillow or sleeping bag before going to bed. This allows to you to gently unwind and ensures a good nights sleep. This is something I use regularly even at home.
Finally, and probably the most essential items for an alcohol fuelled weekend is Hang Dr's Weekend Supply. Formulated with 24 essential vitamins and minerals, these little capsules can help you rover quicker from a hangover by replenishing and reviving your body when it needs it the most. While I haven't tested these out just yet, they've been highly recommended by friends who' taken them while away on wild weekends in Ibiza, and returned fresh faced.
What are your festival essentials? Let me know so I can start preparing!