As I often get asked for highstreet alternatives to the high end products I regularly feature, I've decided to road test a few products, and finally see if we're simply paying for the luxury label rather. As I've already tried the high-end masks, this week I've picked out 5 facemask from Superdrug – every highstreet in the UK has one, and I wanted these products to be as accessible as possible.
De-Stressing Mud Mask
What it claims: "For a revived, healthy looking complexion. Replenishes moisture levels, leaving skin feeling totally revived."
What it actually did: Except irritate my skin, absolutely nothing. Admittedly I do suffer with sensitivity, but I've never used a high-end mask which has caused a burning sensation and redness before. Also, unlike the thick green mask seen on the packaging, this is quite thin in texture, it was really difficult to get an adequate layer, and it's basically white! If you really want to de-stress your skin and your mind on a budget, I'd suggest mixing one tablespoon of Aloe Vera gel with just one or two drops of Lavender Essential Oil, apply the mixture to your face for 15-20 minutes.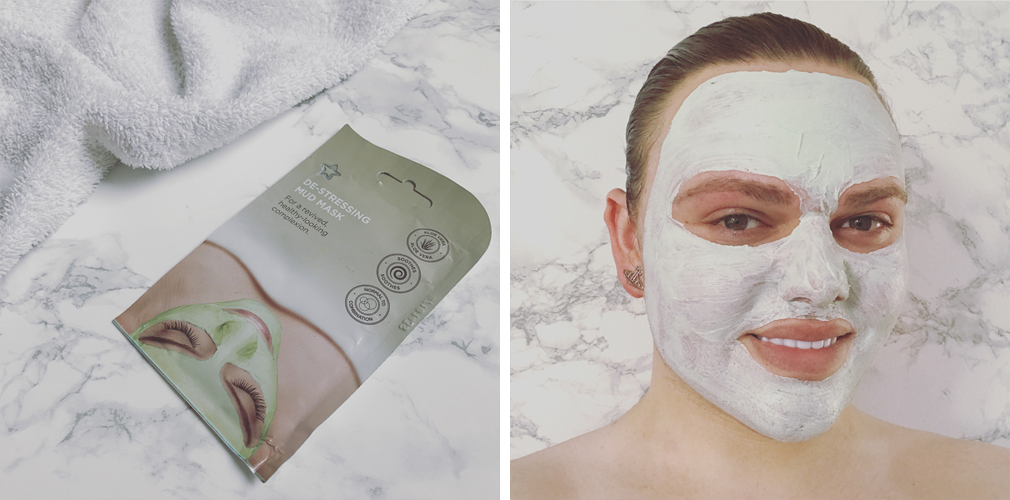 Manuka Honey Peel Off Mask
What it claims: "Nourishes and moisturises," and "unveils a gloriously radiant and smooth complexation."
What it actually did: It smelt great, and it did peel off, but other than that, it did nothing for me. It was very difficult to spread evenly, and left my skin feeling tight and dry – the opposite of nourished or moisturised. This feels like more of an attempt to cash in with the peel off mask craze than a legitimate treatment. As you can  from the images, it also left my cheeks pretty red and irritated. I you really want a manuka facial, try applying honey directly to your face – yes it's sticky and messy, but I guarantee it will work better than this!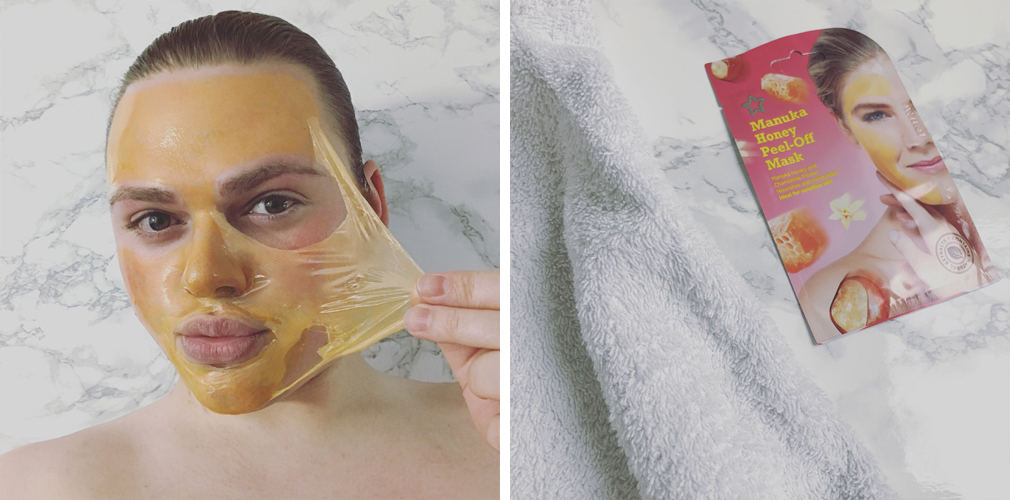 Apricot Exfoliating Self Heating Mask
What it claims: "Polished and purifies" and "melts away impurities."
What it actually did: Whatever gives this mask it's exfoliating properties are far too big to provide adequate scrubbing effects, for me anyway. And the self warming effect is nothing but a gimmick. There's no way the slight warming sensation would generate enough heat to open pores, and it lasts just mere seconds. While this mask didn't cause irritation, it was still a total let down, and yet again, it looked NOTHING like the image on the packaging!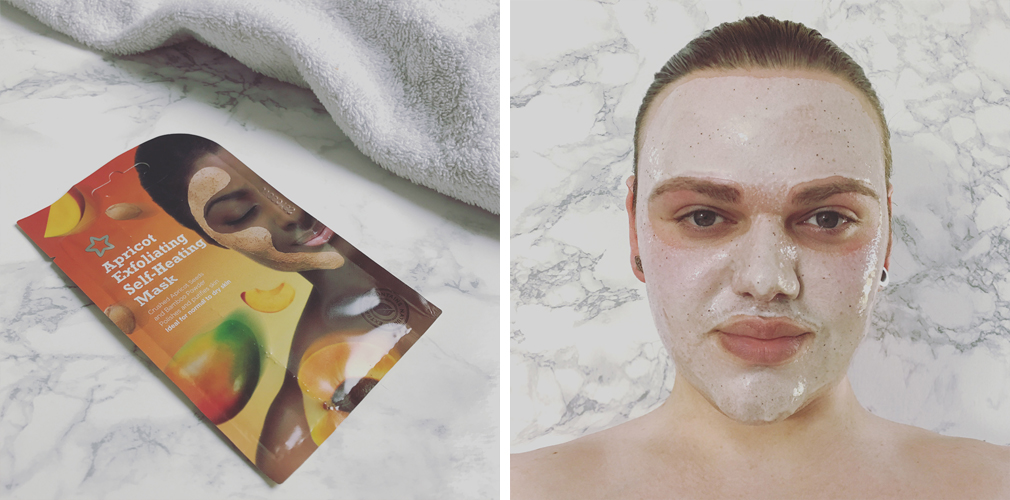 Chocolate Orange Self Heating Mask
What it claims: "Deeply purifies and hydrates the skin. The mask instantly warms up to help open pores and purifies the skin."
What it does: This smells great, applies well, and actually looks it does on the packaging. While it didn't cause any irritation, it didn't really do much at all, other than leave my skin smelling like chocolate orange, which isn't a bad thing, but it certainly didn't leave me feeling purified or hydrated. Much like the apricot mask, the heating effect is nothing more than a gimmick, there's no way it's hot enough to open pores! If you do want to effectively open more for a deep down clean, simply lean over a bowel or sink of hot water for a few minutes, before using your regular cleanser.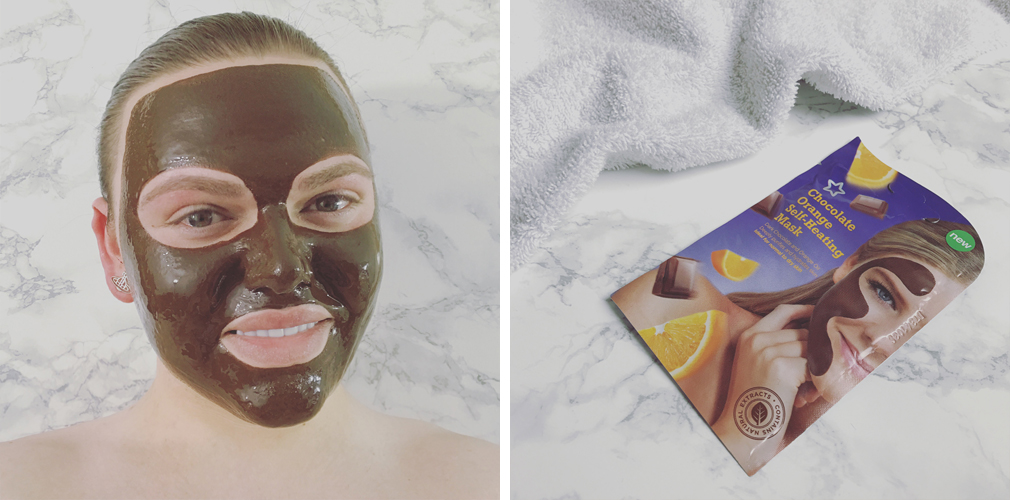 Anti-Aging Moisture Mask
What it claims: "For a younger looking radiant complexion. This mask will lock in moisture and boost hydration levels."
What it actually did: You've guessed it … NOTHING! The packaging suggests it's a thick and creamy mask, but it in reality it was watery and look a lot of effort to get a decent covering over my face. It went on, did nothing, washed off, and left my skin feeling drier than it did before I used it. If you want affordable moisture masks, try searing Amazon for some Korean Sheet Masks, they're pretty in expensive, and like most Korean beauty products, they work so well.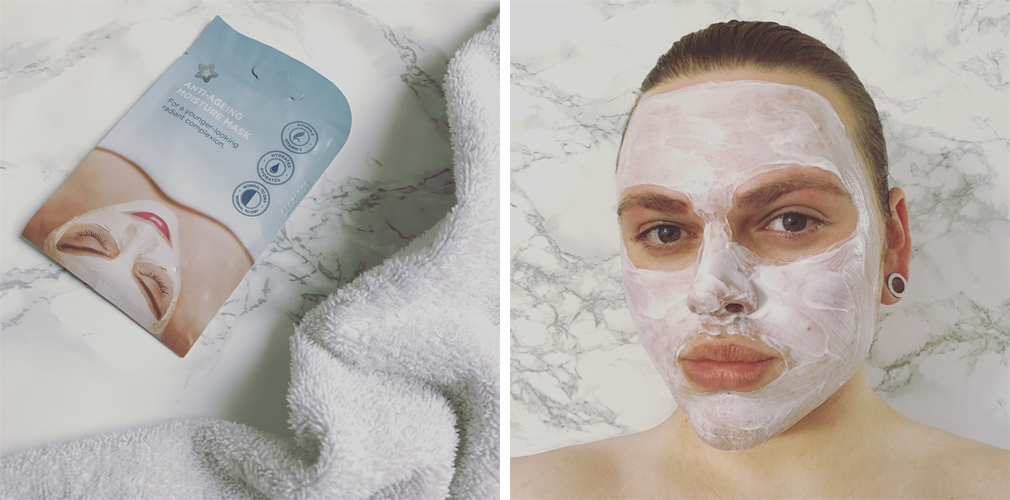 Even considering the price tag of just 99p, these masks are utter trash. While some of the masks I've previously featured are £40-£100 in price, middle of the pack and the perfect compromise between affordable and luxury are L'Oréal's Pure Clays. At around £5-£8, they last up to 10 applications, working out at 50p-80p per treatment, and they really do work! For me, the Superdrug masks are nothing more than a gimmick to get you spending and whoever is writing these product descriptions might as well be writing a work of complete fiction, the same goes for the packaging which, I feel, features a heavily edited or manipulated representation of what's inside.
This week the high end (and the mid range) facemasks have definably won! This isn't a reflection of the entire highstreet, so please let me know if you've found a barging drug store facemask which really works as I'd love to try it. What other highstreet products would you like to see me road test? Get in ouch on twitter.