A study by the Belgravia Centre suggests 40% of men experience noticeable hair loss by the age of 35, and found British men are the most likely in Europe to worry about balding but we're also the least likely to do anything about it. This is mainly due to 75% of us Brits believing hair loss cannot be prevented. Being in the optimistic 25% who believe pills potions and other products may help our efforts to hold onto a thicker, fuller, healthier head of hair for longer, I've put a few to the test.
Natural World Rebalancing Mask and Smoothing Therapy Hair Treatment Oil
Healthy hair needs to well balanced, and come from an equally healthy scalp. Designed to rebalance and refresh, Natural World's Charcoal and Mink Hair Mask keeps both hair and scalp clean, healthy, and energised. Formulated with 95% natural ingredients, it contains no nasty, or harsh chemicals. Organic mint and essential oils nourish the hair and scalp, while activated charcoal deeply cleanse, leaving tangle free, fresh, and moisturised hair. I like to massage this through slightly damp hair, before applying a shower cap, and wrapping my head in a warm towel. This allows heat to build up, opening the hair follicles, allowing the natural ingredients to penetrate deep down where they're most needed. Then I simply rinse off the mask.
Balanced hair is able to absorb more of whatever is applied to it, which is why I like to follow with one of Natural World's range of Smoothing Therapy Hair Treatment Oils. Designed to lock in moisture, these light weight oils fully absorb into the hair, leaving no greasy residue. I've found these to help reduce the mechanical damage caused by combing and brushing damp hair. Damp hair is so much more fragile than dry hair. Brushing and coming while wet can put extra stress on the hair, causing it to break and snap, but these oils help to smooth the hair, making it instantly more manageable. From the very first use of these, I've noticed fewer tangles and knots, and a lot less breakage.
While these aren't specialist hair growth treatments I'd recommend them as a great starting point for anyone wanting to give their hair a little bit more TLC, or start to reduce hair damage and breakage. Since we naturally loose around 100 hairs from our head a day, it seems logical to try and reduce that number by helping to look after our locks as best we can.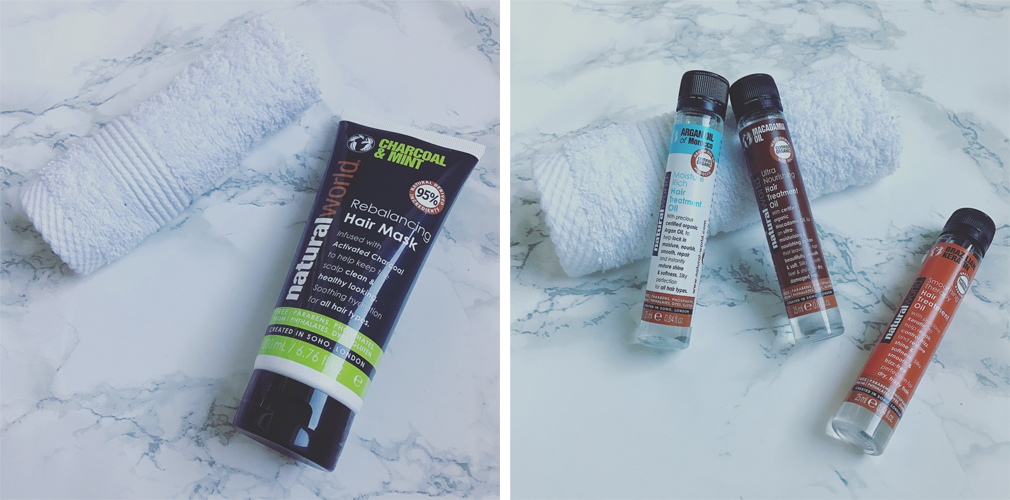 Potion London Supplements
I truly believe we are what we eat. Since a busy lifestyle can make it hard to get all the nutrients we need to support healthy hair, it makes sense to supplement our diet with a much needed dose of goodness. Potion London have a wide range of formulas to cater to all our needs. Two of my favourites are The Beauty Formula and The Collagen Boost – between them they contain everything we need to not only grow healthy lustrous hair, but also glowing skin and strong nails. I've been taking one of each tablet for the past two months and have seen such a huge difference in hair growth! You may of noticed just how long my hair is in my most recent Instagram posts. But it's not only my hair that's growing at a more rapid rate, my nails have needed trimming more often over the last month! These supplements are defiantly a worthy investment and easy way to ensure your body has the building blocks it needs to grow healthy hair!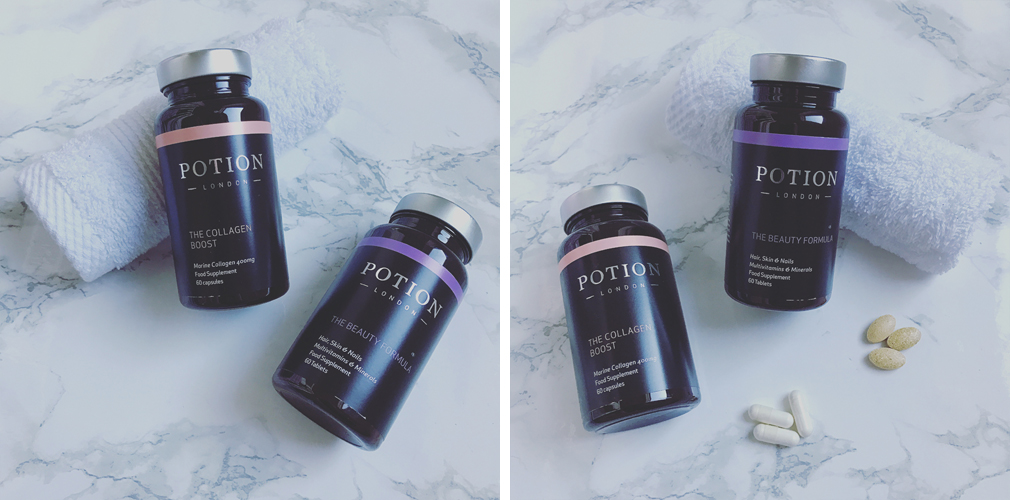 Lee Stafford Growth Collection
Formulated with the brand's Pro-Growth Complex, Lee Stafford's Hair Growth collection is enriched with a protein based complex to fertilise your follicles, creating a healthy environment on the scalp to help your hair grow faster and reach it's maximum potential length. These are a fuss-free way to improve follicle health and the ability of the hair to anchor to the scalp – it's as simple as shampooing and conditioning! Not only do these products smell amazing, but from the very first use, my hair was much more manageable, and has certainly seen an increase in length over the past few months.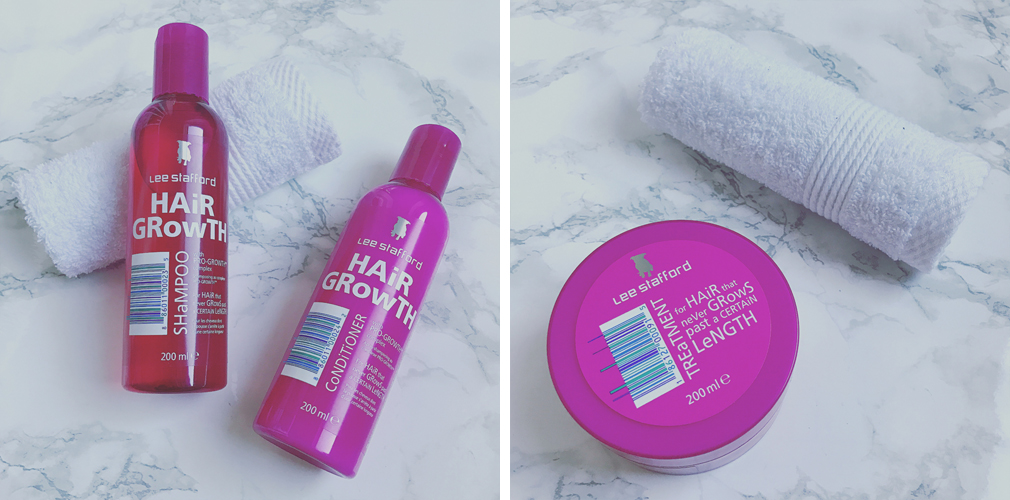 MR Jamie Stevens Thickening Treatment
I've bee a long term fan of MR Jamie Stevens' thickening collection. The MR Thickening Treatment is probably my favourite product from the collection. A unique nozzle allows for targeted application of concentrated ingredients, designed to promote hair growth and slow down hair loss with no residue to weight down your style. As this is a leave in product, it allows the hair and scalp to soak up as much product as it needs. Each bottle contains a months supply to used twice daily – so the key with using is to remember less is more. Although using this as part of the range would give best results, I'd really recommend this for anyone who already has a shampoo and conditioner that they love, but still want thicker, stronger hair. The instructions advise that using for a minimum of three months to see the best results, I've only used this for two months and can already see fuller baby hairs around the scalp and hairline. As this is so light weight, it's ideal for daily use.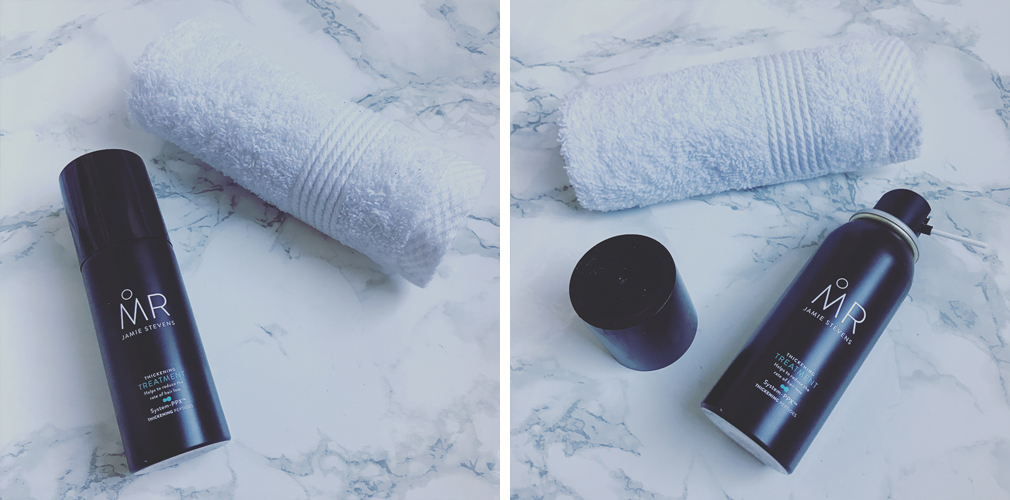 Regrows Hair Regrowth and Thickening Treatment
Clinically proven to increase hair volume in 100% of subjects, Regrowz Hair Regrowth and Thickening Treatment has been formulated with natural ingredients, each of which contribute to thicker, fuller hair. Applied in two steps, this system utilises a scalp stimulant and a restoration serum. The stimulant is a lightweight fluid which can be applied directly to the scalp thanks to it's precision nozzle. For best results, it's advised to massage this into the scalp for a few minutes. Next, apply the serum – depending on the temperature at which it's stored, this will be either a firm gel, or a fluid oil. Again, this should be worked through the hair and massage into the scalp. As this is an oil, a little goes a long way. Too much will leave you hair looking greasy, so it's best to take a few minutes to work a smaller amount throughout the hair, rather than saturate it. I love the smell of this product – it's very natural and herbal, with no added fragrance that would potentially irritate the scalp. As this is more of a heavy product, I've been using it before bed, and washing it out in the morning. In the few months I've been using this, my hairline defiantly looks fuller and thicker! This has a 4.5 rating on Trustpiolet, meaning nearly all the men who've tried this for themselves agree that it really does work!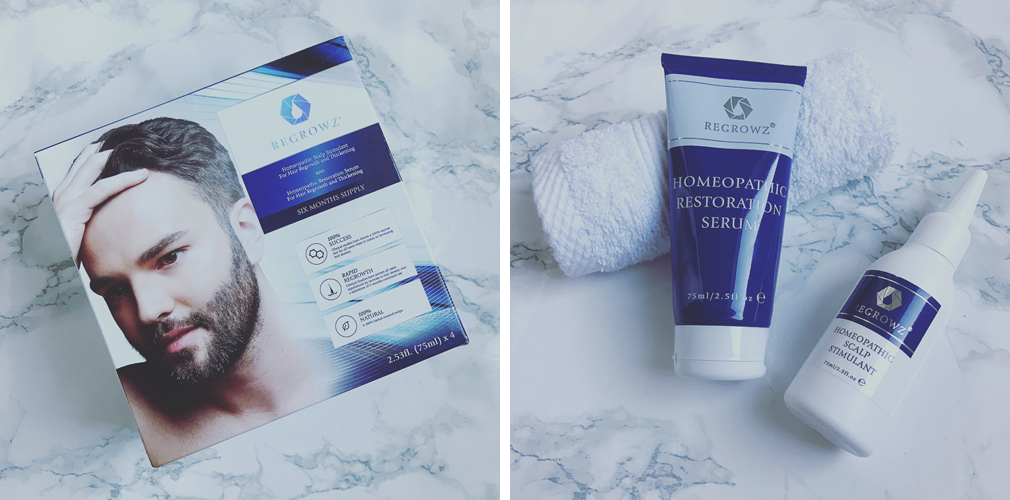 Lifemax Infrared Brush
To stimulate the scalp and get the most from the previous mention products, I've also been using Lifemax's Infrared Brush – thanks to infrared light and heat, combined with it's massage function, it increases blood circulation to the hair follicles. Even used on it's on, this is both relaxing, and beneficial, but it's ideal for dispersing product through the hair and helping aid it's absorption. I've used this for around 10 minutes each day, although sometimes it's easy to get carried away and enjoy the massaging sensation for a little longer!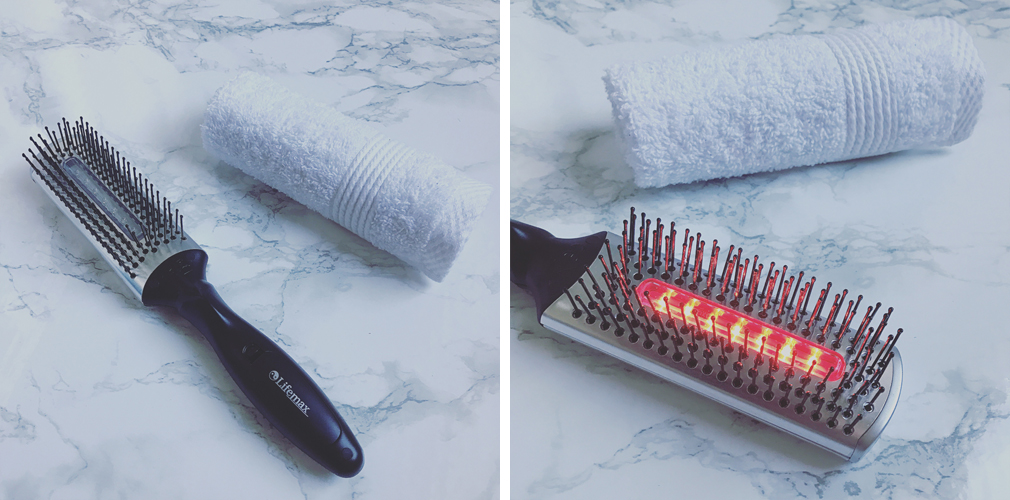 Toppik Hair Building Fibres
The previously mentioned products do take some times to work, so in the meantime there's Toppik Hair Fibres to instantly give the appearance of thicker, fuller hair in seconds. Made from Keratin, the same protein as your hair, these fibres are safe, natural and blend undetectably with your existing hair. Statically charged, the fibres stick to hair, building volume until your next wash. Available in a wide range of shades, from light to dark, there's a colour to match your hair. I've had so much fun using these thought my hairline to create a strong, defined look in seconds. Unlike coloured sprays, or powders, these won't run or transfer, so you wouldn't have to worry about working up a sweat.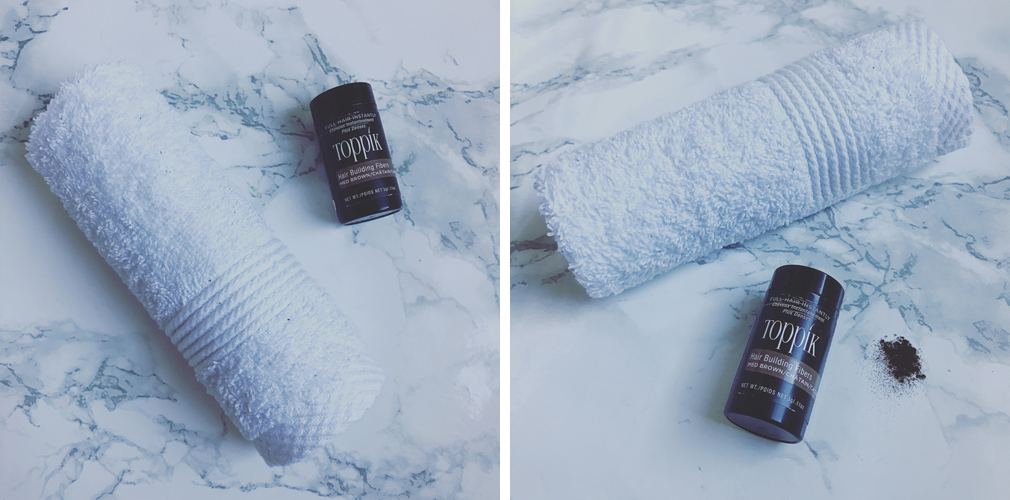 Whatever you choose to try, it's important to remember that hair growth is a slow process, so don't be disheartened when you don't wake up with locks to rival Rapunzel. Stick with a full course of treatment, or continue to use the products for as log as they specify.